Are you ready for Cloudera CDP-Public Cloud?

Matthias Vallaey
Mar 26, 2020 11:15:00 AM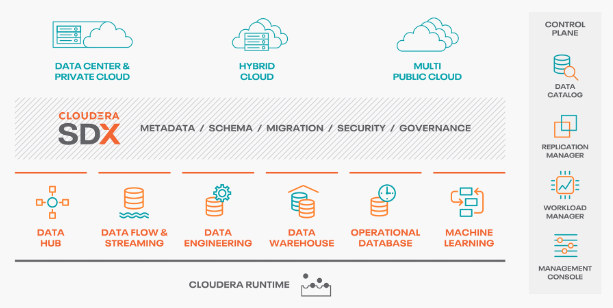 Eleven years after its founding, Cloudera fulfilled its name in a big way with the launch of Cloudera Data Platform (CDP), its new flagship data platform that allows customers to securely manage and govern their data while deploying analytic and AI applications in a platform-as-a-service (PaaS) approach on the cloud.
CDP is an combination of, and the direct replacement for, Cloudera's two legacy Hadoop distributions, including the Cloudera Distribution of Hadoop (CDH) and the Hortonworks Data Platform (HDP). But CDP differs in big ways from those on-premise oriented platforms, including the elimination of YARN in favor of Kubernetes for container management, and a replacement of HDFS for public cloud object stores, including Amazon S3 and Azure Data Lake Storage (ADLS). Support for Google Cloud will come later.
CDP customers will be able to move data and workloads from on-prem to the cloud and vice versa. They'll also be able to move data and workloads from one cloud to another, as the CDP apps are basically identical across AWS, Azure, and GCP.
Hybrid Cloud
Cloudera is clearly responding to the momentum behind Kubernetes. Data warehousing and machine learning workloads run identically on-prem, in the public and private clouds. From the end user perspective, it's the same workload. A SQL query is still a SQL query, a Spark application is still a Spark application. The fact that it is running on S3 or ADLS and Kubernetes is hidden from the end user and even the administrator.
Pricing
Pricing on the cloud (AWS & Azure) is designed to be competitive with other cloud offerings and workloads are paid per hour. CDP-Public Cloud is also available on the Microsoft Azure Marketplace providing customers with the option of consolidated billing. By providing CDP-Public Cloud through the Azure Marketplace, customers can leverage integrated billing i.e. the cost of CDP-Public Cloud will be part of a single Azure bill making procurement simple and friction-free.
How Can Big Industries be of help?
Big Industries is Cloudera partner since 2013 and has implemented Cloudera Data Lakes at multiple customers in many industries. We combine in-depth technical knowledge of the Cloudera stack with confirmed expertise with the leading Cloud providers like AWS and Azure. Our staff are thoroughly trained and have hands-on experience with the new CDP product. We showcased the CDP- Public Cloud during customer events and implemented the solution at an undisclosed customer.

Matthias is founder of Big Industries and a Big Data Evangelist. He has a strong track record in the IT-Services and Software Industry, working across many verticals. He is highly skilled at developing account relationships by bringing innovative solutions that exceeds customer expectations. In his role as Entrepreneur he is building partnerships with Big Data Vendors and introduces their technology where they bring most value.