Big Industries Big Meetup

Matthias Vallaey
Jan 6, 2020 10:00:00 AM

The Big Industries Big Meetup is for Big Industries team mates, customers, suppliers and anyone else who is interested in what we do!
If you are thinking about joining our team, attending one of our meetups is a great way to get to know us, our philosophy, and what it is that we do. Our meetups offer networking opportunities, team updates and insight, tech talks and more besides.
We organise our first Meetup on Thursday January 23rd, 2020 at Cronos in Kontich:
Agenda:
18:30: Doors open, sandwiches and drinks
19:00: Data in Motion - Cloudera Data Flow
Cloudera DataFlow (CDF), formerly Hortonworks DataFlow (HDF), is a scalable, real-time streaming analytics platform that ingests, curates, and analyzes data for key insights and immediate actionable intelligence. DataFlow addresses the key challenges enterprises face with data-in-motion:
Processing real-time data streaming at high volume and high scala

Tracking data provenance and lineage of streaming data
Managing and monitoring edge applications and streaming sources
19:45: Cloudera Data Platform (CDP) Demo
Cloudera Data Platform (CDP) combines enterprise-grade security and governance, multi-function data analytics and an elastic cloud experience. Big Industries will showcase the functionalities of this powerful platform.
20:30: Tools and tech for sculpting your lean/agile transformation on cloud
Success of a Lean/Agile transformation depends on how it is organically tied to solid engineering practices that ultimately drive the transformation using data.
21:15: Drinks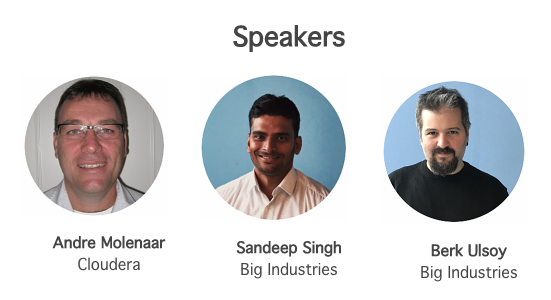 Matthias is founder of Big Industries and a Big Data Evangelist. He has a strong track record in the IT-Services and Software Industry, working across many verticals. He is highly skilled at developing account relationships by bringing innovative solutions that exceeds customer expectations. In his role as Entrepreneur he is building partnerships with Big Data Vendors and introduces their technology where they bring most value.