Life at Big Industries: interview with Francine

Francine Anestis
Nov 8, 2022 8:55:48 AM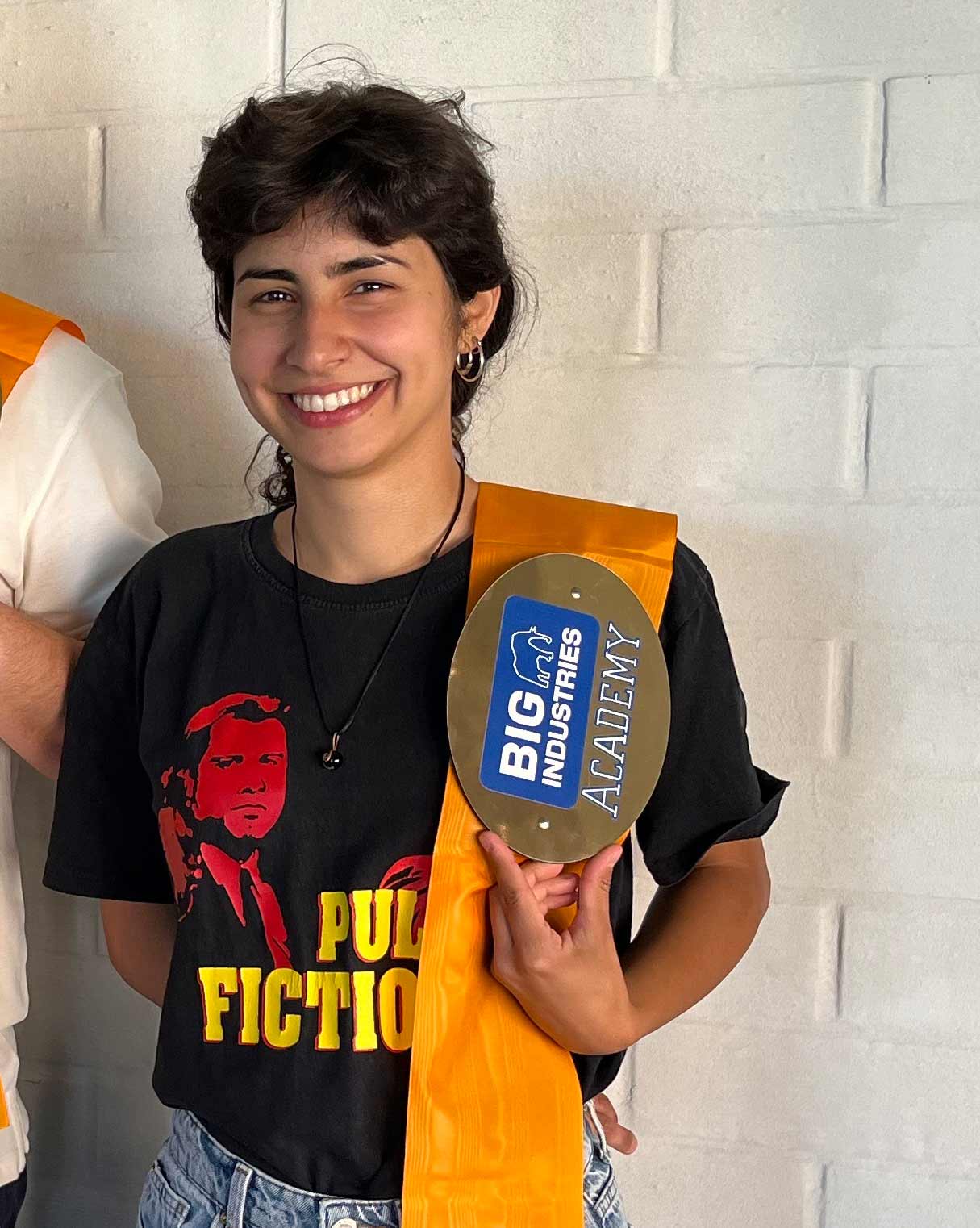 How did you join/find out about Big Industries?
After finalizing my studies and my internship, I decided to start searching for my dream job as a Data Engineer. My main search source was LinkedIn. Thus, I found out about Big Industries through a LinkedIn job post.
At the moment that I was searching for a job, Data Engineering positions were high in demand, so I had some specified criteria in my mind to be able to choose for which job posts I would apply and not go blindly to every single Data Engineering job post. Those criteria were the job requirements, the poise and presentation of the job announcement, the company's webpage, the clients, and most importantly the used technologies.
Going through those criteria one-by-one, in my mind Big Industries seemed like a very good match for me, so I decided to do the application. After Matthias received my application, he contacted me expressing his will for a first meeting.
During our first meeting, I received a very good vibe. I liked the initial approach. He was very friendly and started presenting the company to me. That gave me a very good impression, because he wasn't trying to find out how many things I know about Big Industries, but he approached our meeting mostly like a new first real acquaintance. After hanging up our first meeting, the impression I had was that this is a human-oriented company. This is something extremely important to me and thus it assured me that I would like to join Big Industries.
What do you like about working for Big Industries?
I like a lot of things about working for Big Industries, but I will choose the one most important to me. In Big Industries I am feeling heard. In my opinion, this is something very important for an employee; to feel heard by their employer. Personally, I find Matthias a very good listener. He listens to my development needs, and he provides me with the tools to grow in the way I desire. He listened to my career needs, and he ensured a client's assignment that was fulfilling those needs. To elaborate, the client I am currently working for, mirrors absolutely the technologies I want to work on. Also, I find the environment and the team I work with balanced, healthy, and a match to my personality. To conclude, without exaggeration, I have my personal ideal job and I believe this is a result of 2 things; of course, of knowing what you want, but also of being honestly heard by your employer.
What was something new you had to learn to do your job?
I had to and I still do learn several things to do my job which are under the umbrella of the tools I was eager to learn to develop myself professionally. Some examples are Cloudera Data Platform (CDP), Apache Spark (core, streaming and sql), Apache Hadoop, Apache Avro, Apache Maven, Scala, Apache Impala, Apache Kudu. In addition to that, I enriched my technical skills on Apache Kafka, Java and SQL.
How does your work week look like?
There is general flexitime, and it is not obligatory to be on-site, at least at my client's. However, the work schedule I choose to have from Monday to Friday is the following.
Generally, I wake up at 06.30, and leave for work at 07.00. I will be at the office at around 07.30 - 07.45. I take a coffee with my team leader, and after that I start working. I am mostly coding, deploying, testing, and validating the applications I work on or having meetings with the other members of the Big Data team to talk about and solve issues we are facing, the progress of our projects, etc. At 12.30 I go on a lunch break for an hour. After that I work till 17.00. I leave from the office between 17.00 – 17.30 and I am at home approximately 50' after, depending on the traffic jam.
What technology do you like most?
My preferred technology to use till now is the combination of Apache Kafka and Apache Spark, mostly, structured streaming. I find streaming processes and technologies quite fascinating, mostly when it comes to the performance tuning part. Also, I adore the CDP environment.
Share Your Wisdom, Feed The Family Feel, Dare To Grow. Can you give an example of a situation where these values were put in practice?
I would say that Academy days are the most resonant example of all the aforementioned values. During the Academy days, we do presentations and workshops, in which people with knowledge of a specific tool organize presentations and exercises to share their wisdom with the other members of the team that are not (that) familiar with that tool. Definitely, the team building activities that accompany the workshops and presentations during the Academy days, feed the family feel and give us the opportunity to dare to grow. Also, other examples are the seminars, trainings, etc. which we can follow anytime, as well as the dedicated channels we have on Slack for Q&As. It is quite fascinating the fact that although Big Industries is a consultancy and as a result some members of it are working for different clients, there is no distance between us. We chat with each other through Slack, we openly express our questions and issues on our current projects and we always receive response/solutions from multiple people.

My diploma thesis as well as my internship being on ETL, Analysis and Forecasting of Big Streaming Data, I am keen on learning more and immersing myself in Data Engineering and Data Space in general. Building data pipelines, using Kafka, databases and algorithms captivated me during my studies as Electrical and Computer Engineer and as a result I decided to dedicate myself on Data Engineering. I am very excited starting my learning and career path at Big Industries. Regarding my skills, if I had to choose one programming language and a platform, I would say that Python and Kafka are my strongest assets, but I am looking forward to extending that list.