Great reading: Data Teams by Jesse Anderson

Matthias Vallaey
Nov 26, 2020 8:30:00 AM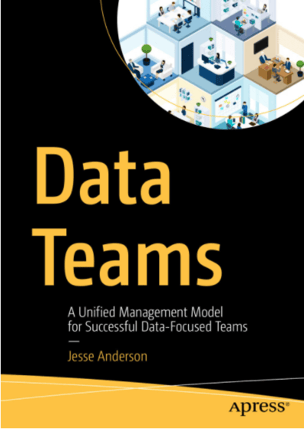 I have been following Jesse Anderson's blog posts on Data Engineering for some time now and I was pleased to learn that he published his new book Data Teams: A Unified Management Model for Successful Data-Focused Teams.
In the book you will learn how to run successful big data projects, how to resource your teams, and how the teams should work with each other to be cost effective. This book introduces the three teams necessary for successful projects, and what each team does.
Making use of data is a team sport. It takes different kinds of people with different skill sets all working together to get things done. In all but the smallest projects, people should be organized into multiple teams to reduce project failure and underperformance.
What you will learn:
Discover the three teams that you will need to be successful with big data
Understand what a data scientist is and what a data science team does
Understand what a data engineer is and what a data engineering team does
Understand what an operations engineer is and what an operations team does
Know how the teams and titles differ and why you need all three teams
Recognize the role that the business plays in working with data teams and how the rest of the organization contributes to successful data projects
This book is for Management, at all levels, including those who possess some technical ability and are about to embark on a big data project or have already started a big data project. It will especially helpful for those who have projects which may be stuck and they do not know why, or who attended a conference or read about big data and are beginning their due diligence on what it will take to put a project in place. This book is also pertinent for leads or technical architects who are on a team tasked by the business to figure out what it will take to start a project, in a project that is stuck, or need to determine whether there are non-technical problems affecting their project.

Matthias is founder of Big Industries and a Big Data Evangelist. He has a strong track record in the IT-Services and Software Industry, working across many verticals. He is highly skilled at developing account relationships by bringing innovative solutions that exceeds customer expectations. In his role as Entrepreneur he is building partnerships with Big Data Vendors and introduces their technology where they bring most value.