VEB: Lowering the energy cost at the Flemish Government

Matthias Vallaey
June 21, 2019
Project Terra
Vlaams Energie Bedrijf (VEB)'s mission is to supply energy to entities under control of the Flemish government and guide these agencies towards more sustainable and efficient energy consumption and therefore support these organizations in achieving ambitious climate objectives.
The efficient use of Data
Energy management starts with good data. Big Industries was invited by VEB to design and build a Data Lake in order to bring together energy and real estate data from all the properties under management of the Flemish Community.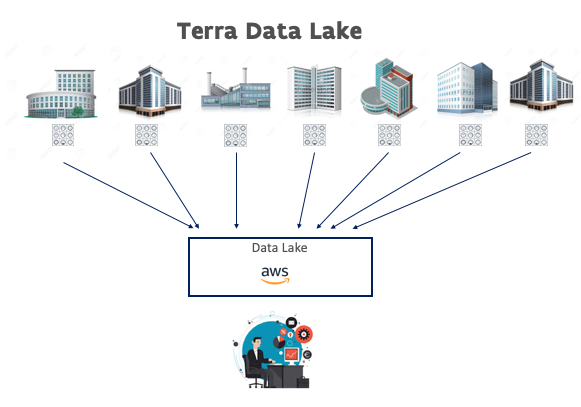 With this Data Lake it became possible to answer questions like:
What is the energy consumption per student per school?
What is the consumption per patient per hospital?
Can we monitor those parameters over time?
Can we check this before and after an efficiency project?
VEB was looking for a flexible, scalable and cost efficient solution, so it was clear from the beginning that only the public cloud could meet these requirements.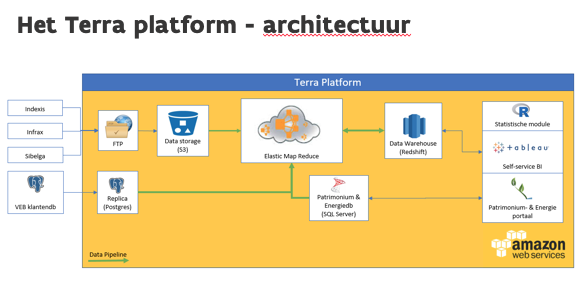 Big Industries designed the Data Lake based on AWS cloud technology, helped with the setup, developed the data pipelines and organized the data governance. As the customer requirements evolve and AWS keeps on introducing new services, the current architecture will evolve too.

Matthias is founder of Big Industries and a Big Data Evangelist. He has a strong track record in the IT-Services and Software Industry, working across many verticals. He is highly skilled at developing account relationships by bringing innovative solutions that exceeds customer expectations. In his role as Entrepreneur he is building partnerships with Big Data Vendors and introduces their technology where they bring most value.