New Partnership with Kafka vendor Confluent

Matthias Vallaey
May 8, 2018 11:49:03 AM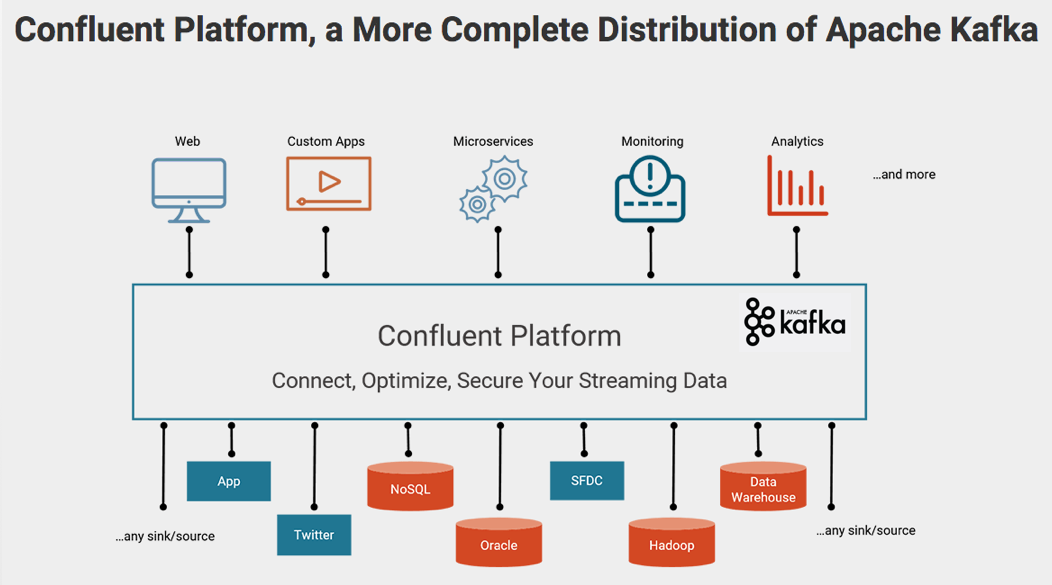 Big Industries recently entered into a partnership with Confluent.
Confluent, founded by the creators of Apache™ Kafka®, enables organizations to harness business value from stream data. The Confluent Platform manages the barrage of stream data and makes it available throughout an organization. It provides various industries, from retail, logistics and manufacturing, to financial services and online social networking, a scalable, unified, real-time data pipeline that enables applications ranging from large volume data integration to big data analysis with Hadoop to real-time stream processing.
About Apache Kafka
Apache Kafka is an open source technology that acts as a real-time, fault tolerant, highly scalable messaging system. It is widely adopted for use cases ranging from collecting user activity data, logs, application metrics, stock ticker data and device instrumentation. Its key strength is its ability to make high volume data available as a real-time stream for consumption in systems with very different requirements—from batch systems like Hadoop, to real-time systems that require low-latency access, to stream processing engines that transform the data streams as they arrive. This infrastructure lets you build around a single central nervous system transmitting messages to all the different systems and applications within a company.
The Confluent Platform: Kafka made easy
Confluent Platform improves Apache Kafka by expanding its integration capabilities, adding tools to optimize and manage Kafka clusters, and methods to ensure the streams are secure. Confluent Platform makes Kafka easier to build and easier to operate. Confluent Open Source is freely downloadable, while Confluent Enterprise is available through our subscription.
Big Industries and Confluent
By investing in this partnership Big Industries can leverage Confluent best practices around the Kafka Connect framework, in order to help you build, implement, service, support and run the Confluent Platform that best fits your unique needs.

Matthias is founder of Big Industries and a Big Data Evangelist. He has a strong track record in the IT-Services and Software Industry, working across many verticals. He is highly skilled at developing account relationships by bringing innovative solutions that exceeds customer expectations. In his role as Entrepreneur he is building partnerships with Big Data Vendors and introduces their technology where they bring most value.