Q8 strategic step towards a broader mobility offer

Matthias Vallaey
November 22, 2022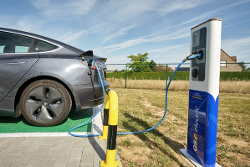 Electric cars, renewable energy, the sharing economy: it is clear that mobility is changing fast. For Q8 it is critical to prepare for this new reality and make the switch from a traditional oil company to an e-mobility player.Q8 is investing heavily in setting up an infrastructure for charging points to help drivers with the transition from fossil fuels to electric driving. In parallel with the radical shift in strategy, Q8 is going through a digital transformation with data and analytics as main drivers.
Big Industries helps Q8 with the design, setup and industrialization of data pipelines from various API sources towards a cloud dataplatform based on Cloudera and hosted on AWS. These data elements are then expected to be uses for multiple BI reports built with Microsoft PowerBI.
Technologies used: AWS, Cloudera CDP, Kafka, NiFi, Spark, PowerBI, Gitlab and Jira.

Matthias is founder of Big Industries and a Big Data Evangelist. He has a strong track record in the IT-Services and Software Industry, working across many verticals. He is highly skilled at developing account relationships by bringing innovative solutions that exceeds customer expectations. In his role as Entrepreneur he is building partnerships with Big Data Vendors and introduces their technology where they bring most value.